2021 in review
Over the past 12 months, we have witnessed many extremes. The Western suburbs communities have been greatly challenged throughout the pandemic, revealing the increased risk of family violence, and deeper entrenchment of poverty, disadvantage, health and social inequities.
You can download our 2020/21 Annual Report for more information on all our services and programs.
WEstjustice was well-equipped to respond to this challenge through the adapted service models and programs we developed in 2020, which enabled us to keep delivering important legal and social outcomes for our communities. We also focused on the need to support each other and our service partners through this year's challenges.
Our team was incredible throughout the year. Overall, they remained positive and engaged to the best of their abilities. 20/21 will be remembered as one of the most challenging periods for WEstjustice, but also as a time of extraordinary dedication and commitment from our staff to our organisation, our clients, and the broader Western suburbs community.
Organisation-wide highlights
Major highlights of the past year include:
Releasing three seminal reports based on the experiences of our clients
Advocating across multiple areas of legal, legislative and regulatory reform, in line with our systemic impact areas
Securing a major expansion to our Mortgage Stress Service, building on a successful pilot in the western suburbs
Advocacy success in the establishment of a Werribee Justice Precinct
Client demographics
WEstjustice has a strong focus on providing legal and other support to people who need it most, through various forms of vulnerability and disadvantage.
Our client numbers over the last year include: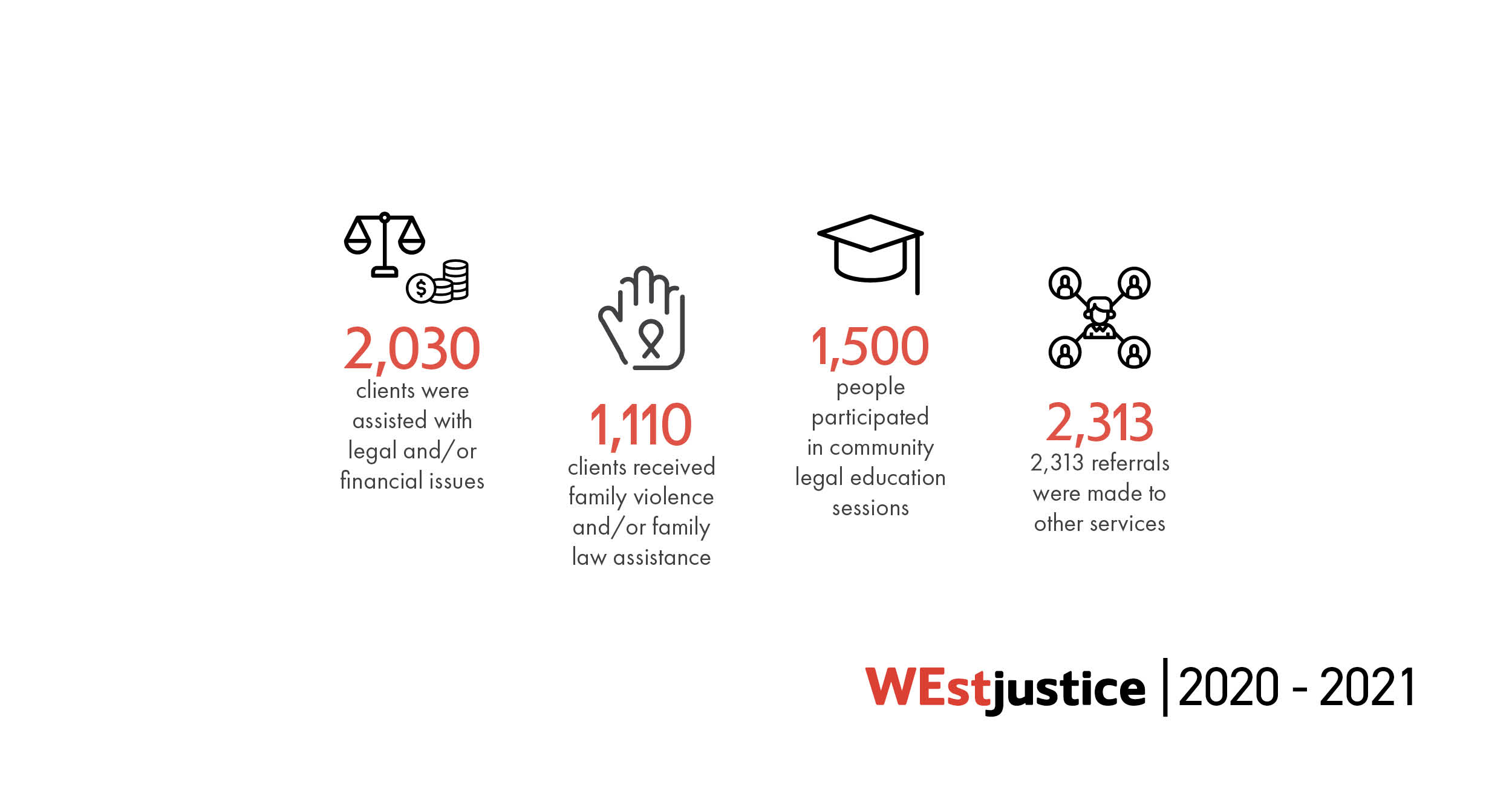 The matters we supported clients with were: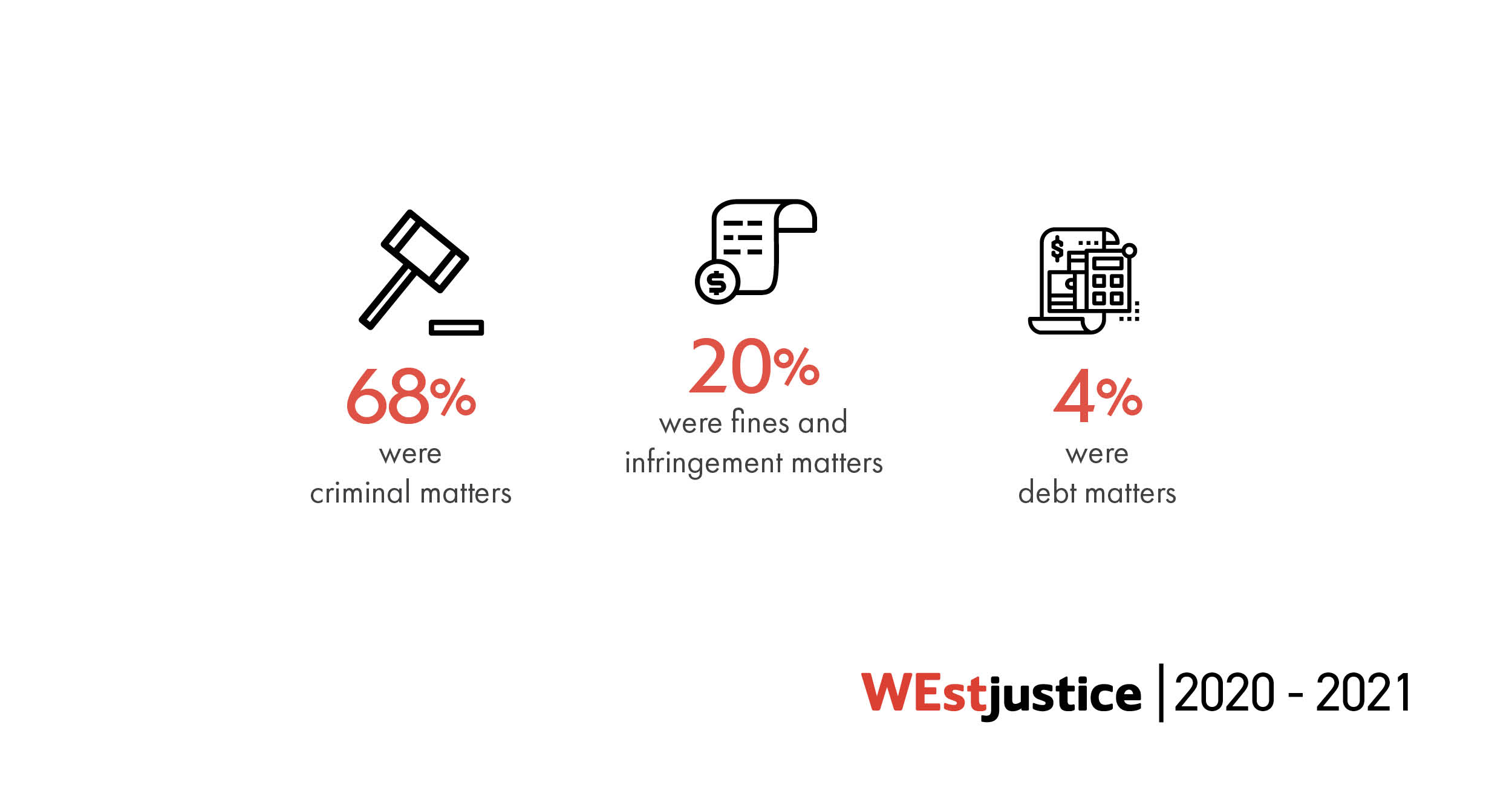 Of these clients: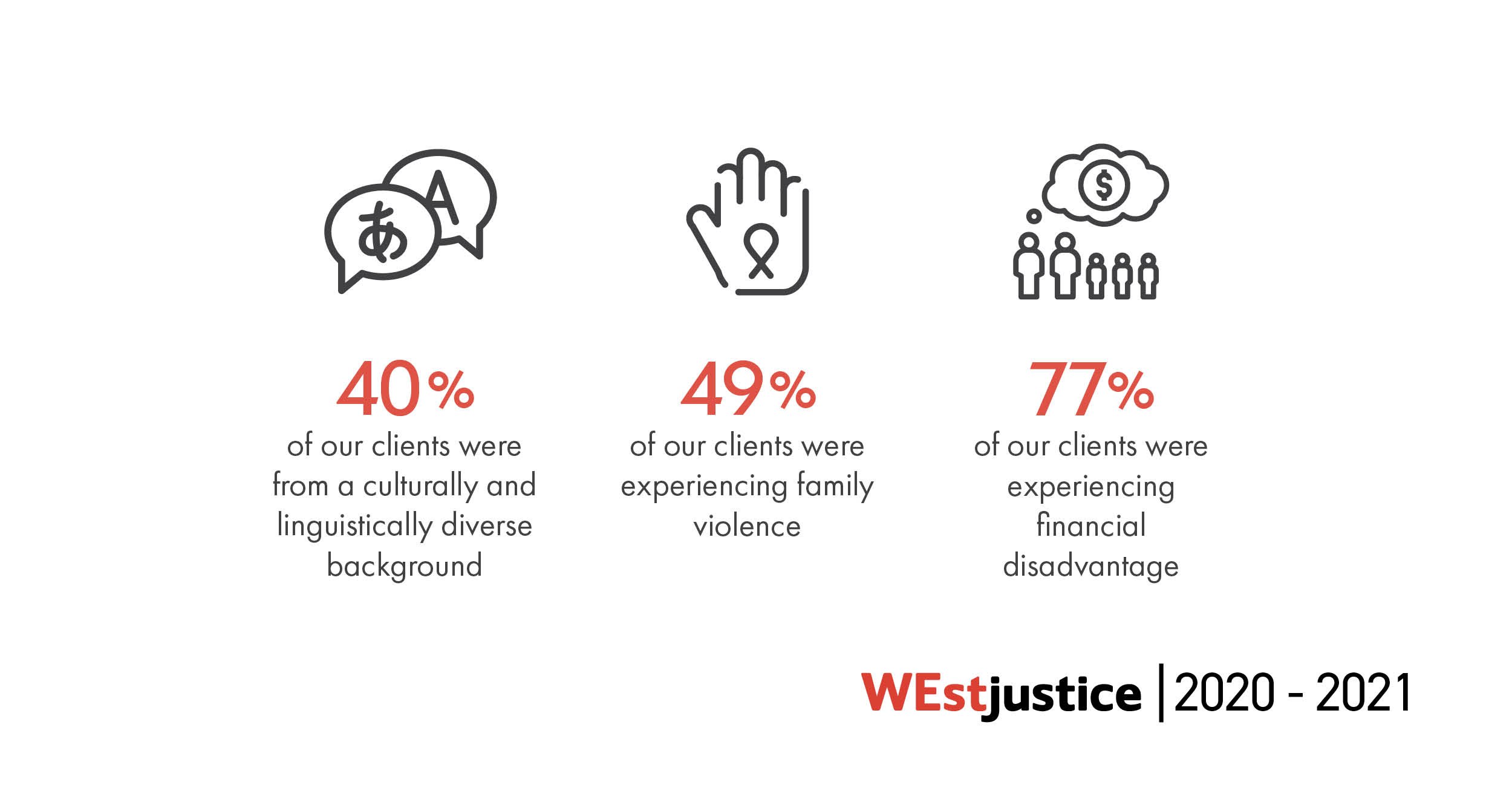 Client outcomes
The result has been strong outcomes for our clients, a range of innovative new service models ready to be expanded, and movement on some key advocacy issues that will improve the lives of individuals and families across the West and more broadly.
Key outcomes and client feedback results include: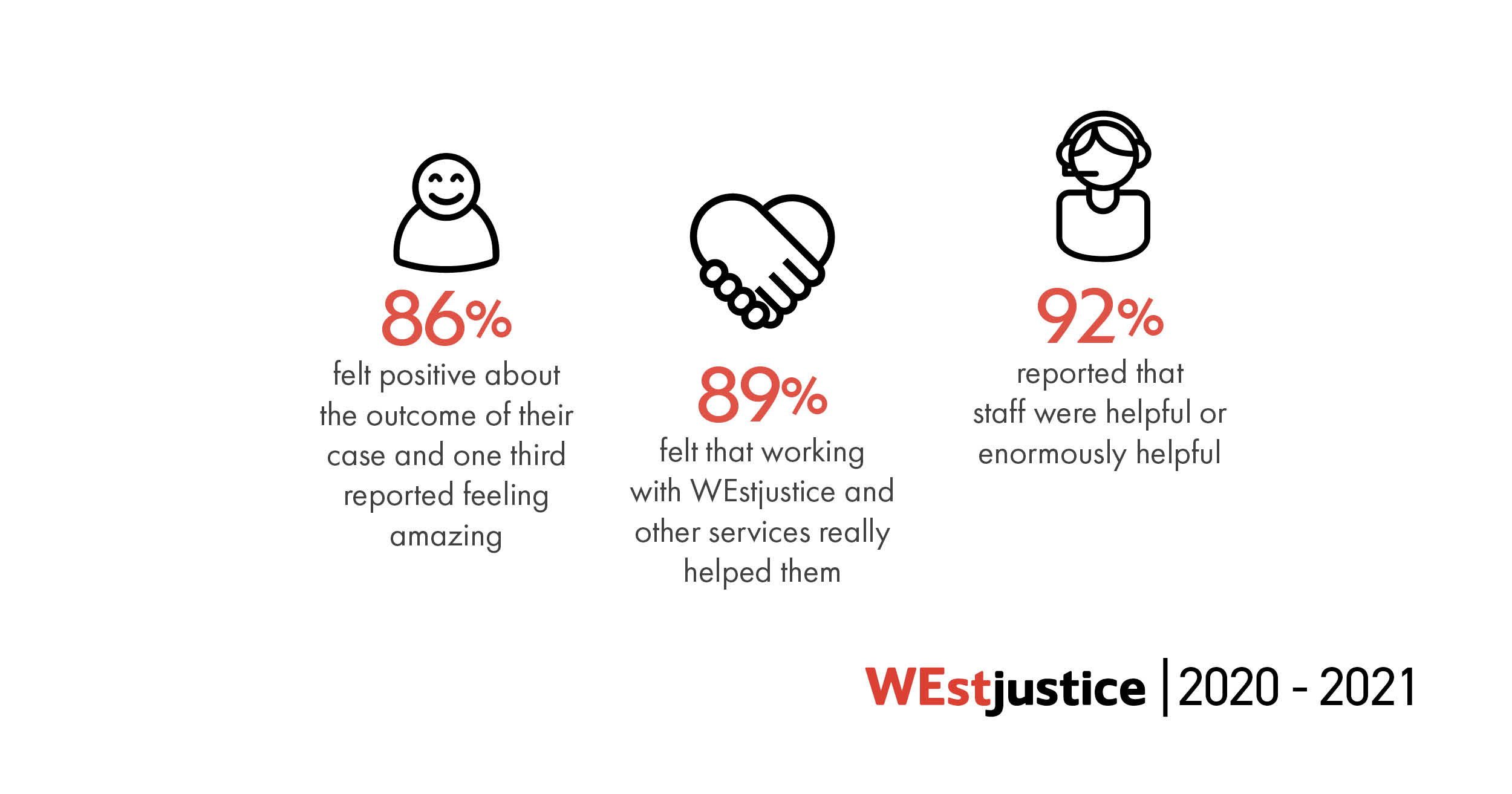 Financial outcomes for clients include: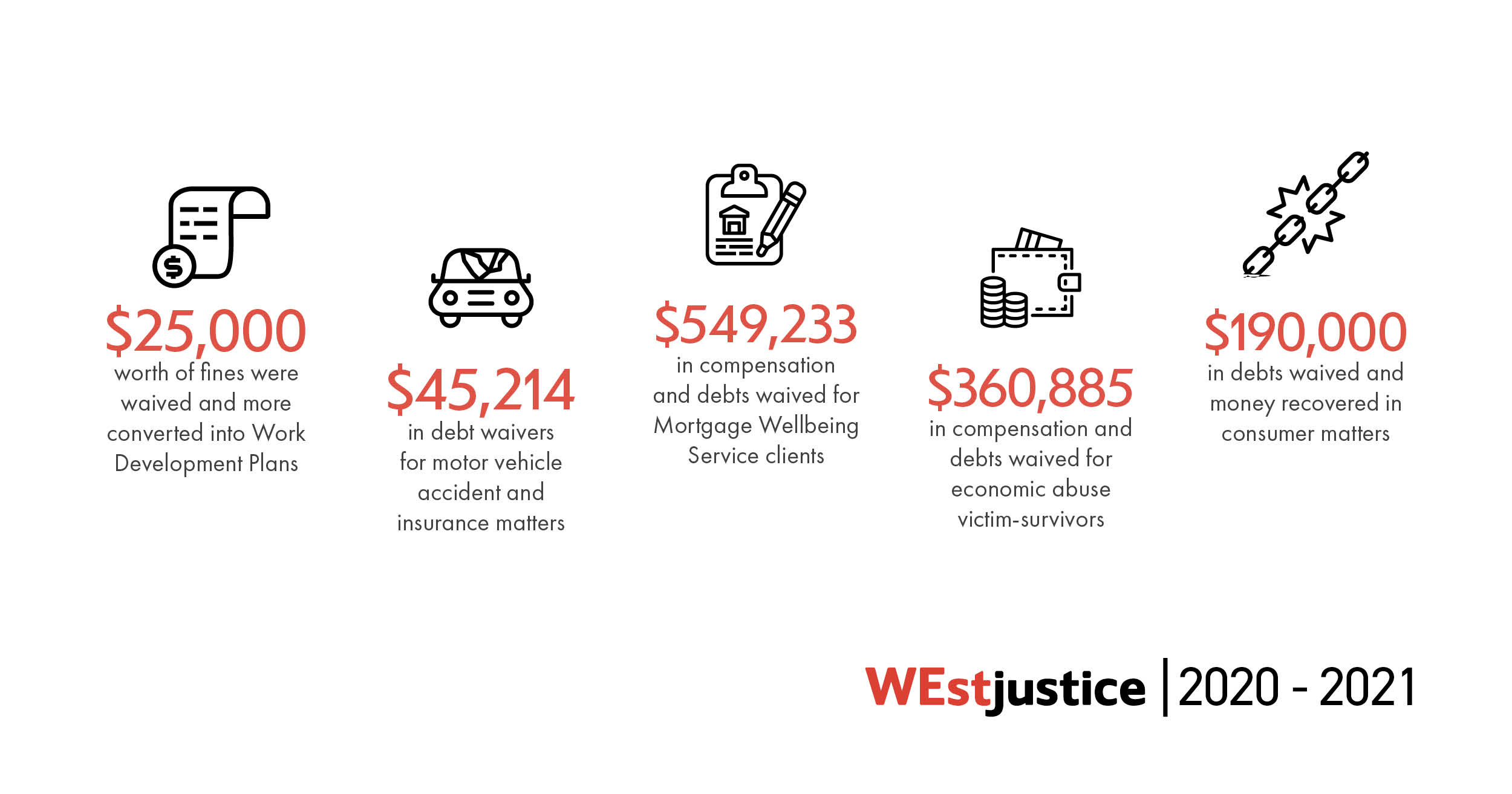 Employment and work-related outcomes through our youth employment programs include: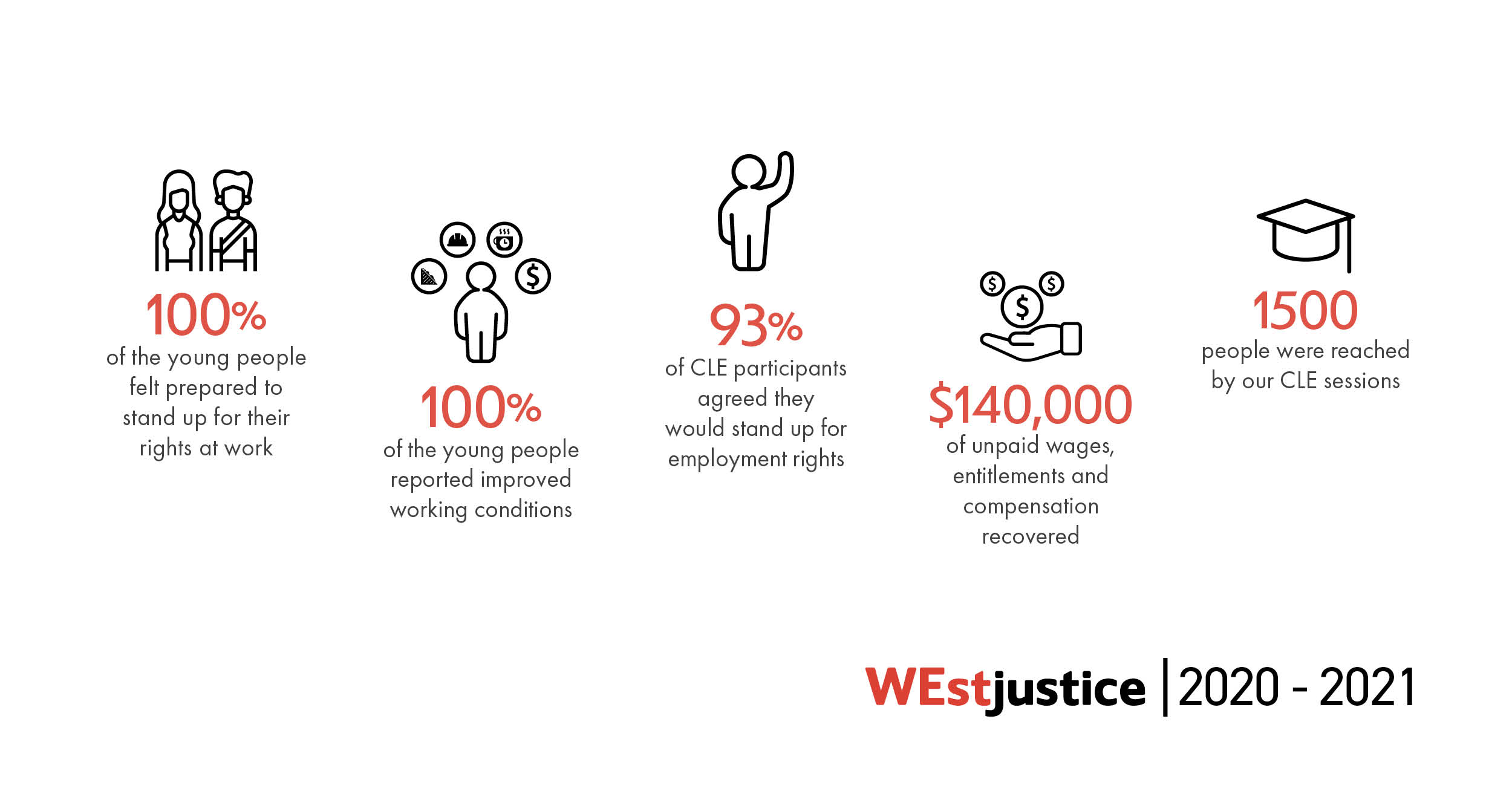 Impact area highlights
WEstjustice has four strategic impact areas, which represent priority communities that we target our legal and other assistance programs to.
1. Culturally and linguistically diverse communities
The major highlights from our work with culturally and linguistically diverse communities included:
Work with Smart Justice 4 Young People to reduce the over-representation of culturally diverse groups in the criminal justice system
Launching the Settlement Justice Partnership with Wyndham CEC and MiCare to provide direct legal assistance to humanitarian arrivals
Education and support for the communities of Burma in Melbourne's West around scams, and systemic advocacy for banks to better protect CALD clients
Addressing harm caused by public transport fines for asylum seekers
Education and school-lawyer programs tackling racism in schools
Auditing our own programs for cultural safety
Commenced working on the Work Rights and Responsibilities Legal Support Service, a train the trainer program for Community Employment Connectors and Victorian African Community Action Plan Employment Brokers and legal advice line for their clients from multicultural communities.
Continued to provide employment and accommodation legal services to international students through the Study Melbourne Centre
2. People experiencing family and gender-based violence
Launching our Restoring Financial Safety report on our partnership with McAuley Community Services for Women, leading to a proposal for a statewide service and a state homelessness prevention award
Assisting 580 clients in family violence proceedings at the Sunshine and Werribee Magistrates Courts and successfully contacted many of these clients in advance of their hearing in an attempt to settle early and reduce the stress of the court proceedings.
Ongoing partnership with the Mercy Hospital assisting women experiencing and at-risk of violence
Community education work with IndianCare and MiCare
Identified and assisted women who had been misidentified as perpetrators in the system with criminal charges associated with the family violence
Representing women with language and other economic barriers in parenting proceedings, property settlements and spousal maintenance that improved their financial independence and ability to move on from these abusive relationships
3. Young people
Launching our Youth Employment Justice Program report and advocating for significant changes to educate, prepare and protect young people at work
Launching TARGET ZER0 to reduce the over-representation of young people from diverse backgrounds within the criminal justice system
School-lawyer programs in a number of schools throughout Melbourne's West
4. People experiencing economic injustice
Successfully working with Choice to advocate for an end to insurers pursuing uninsured renters for accidental property damage
Launching our report on the International Student Housing Program and advocating for significant changes to protect vulnerable student renters from exploitative providers
Tenancy support to hundreds of people on a range of housing matters
Successfully halted the repeal of responsible lending laws through a joint consumer advocate campaign
WE

are located
Footscray

Werribee

Sunshine
Footscray
Workspace365, Level 2, 90 Maribyrnong St, Footscray VIC 3011 (temporary relocation)
Tel: + 61 3 9749 7720
Fax: + 61 3 9749 8276
Email: admin@westjustice.org.au
Office hours:
Monday to Friday, 9.00am-1.00pm and 2:00pm-5:00pm. (Office currently closed to public due to COVID-19 situation - by appointment only)
To get legal help (appointment booking needed) please use our Online Enquiry Bot by clicking HERE or call us.
Werribee
Level 1 / 8 Watton Street, Werribee VIC 3030 | Mail: PO Box 2199, Werribee VIC 3030
Tel: + 61 3 9749 7720
Fax: + 61 3 9749 8276
Email: admin@westjustice.org.au
Office hours:
Monday to Friday, 9.00am-1.00pm and 2:00pm-5:00pm. (Office currently closed to public due to COVID-19 situation - by appointment only)
To get legal help (appointment booking needed) please use our Online Enquiry Bot by clicking HERE or call us
Sunshine
Visy Cares Hub, 80B Harvester Road, Sunshine VIC 3020 | Mail: PO Box 627, Sunshine VIC 3020
Tel: + 61 3 9749 7720
Fax: + 61 3 9749 8276
Email: admin@westjustice.org.au
Office hours:
Monday, Wednesday & Friday, 9.00am-1.00pm and 2.00pm-5:00pm. (Office currently closed to public due to COVID-19 situation - by appointment only)
To get legal help (appointment booking needed) please use our Online Enquiry Bot by clicking HERE or call us