Westjustice at Yoorrook Justice Commission
Our CEO, Melissa Hardham, and Director of the Youth Law Program, Anoushka Jeronimus, gave evidence to the Yoorrook Justice Commission on Friday 3 March 2023. Their testimonies focused on the impact of cyclic disadvantage in Melbourne's West, and on Westjustice's approach to addressing complex social and justice issues. Their evidence was based on Westjustice's practical experience in the West with young people and their families, and our focus on addressing the underlying causes of legal and related problems.
Westjustice made a series of recommendations to ensure that Business, the government and non‑government sector don't just do bad a bit better. This included recommending against the over resourcing of the "sticks" – that is the Police Stations, Courts and jails – and investing much more heavily in the "carrots", interconnected (and real) health, housing, education and economic levers to assist to break the cyclic nature of disadvantage. They also recommended an urgent rethink how we chose to spend state monies, if not for the human benefit, then for the fiscal benefit. Finally, and most importantly, their testimony acknowledged that those tasked with the policy development, planning, implementation, and evaluation ought to be our First Peoples. In this regard, Westjustice defers to, and are led by, Western RAJAC, the Victorian Aboriginal Legal Service (VALS), Djirra and other First Peoples organisations and leaders in relation to the impact of cyclic disadvantage and complex social and justice issues, and supports their expanded presence in Melbourne's West.
You can see the evidence here and read our submission here.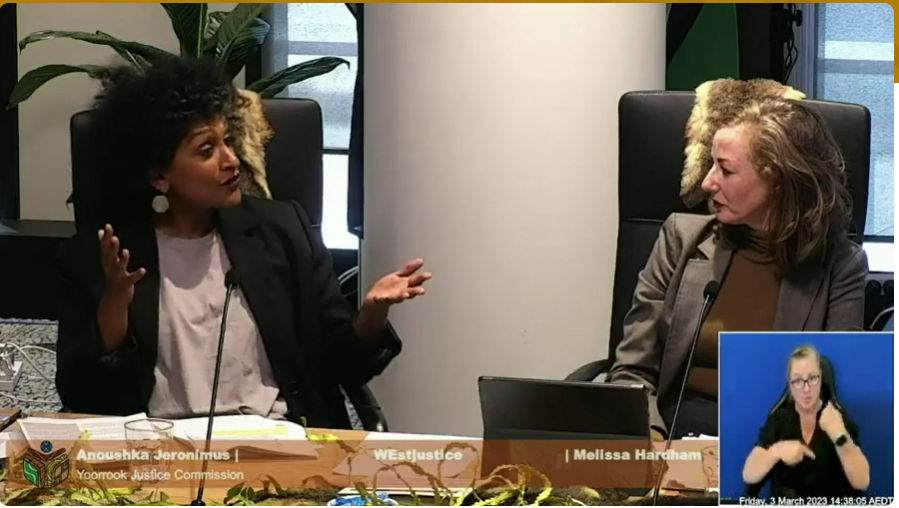 WE

are located
Footscray

Werribee

Sunshine
Footscray
Workspace365, Level 2, 90 Maribyrnong St, Footscray VIC 3011 (temporary relocation)
Tel: + 61 3 9749 7720
Mail: PO Box 2199, Werribee VIC 3030
Email: admin@westjustice.org.au
Office hours:
Monday to Friday, 9.00am-1.00pm and 2:00pm-5:00pm
Advice by appointment only. Please call to book
Werribee
Level 1 / 8 Watton Street, Werribee VIC 3030
Tel: + 61 3 9749 7720
Mail: PO Box 2199, Werribee VIC 3030
Email: admin@westjustice.org.au
Office hours:
Monday to Friday, 9.00am-1.00pm and 2:00pm-5:00pm
Advice by appointment only. Please call to book
Sunshine
Visy Cares Hub, 80B Harvester Road, Sunshine VIC 3020
Tel: + 61 3 9749 7720
Mail: PO Box 627, Sunshine VIC 3020
Email: admin@westjustice.org.au
Office hours:
Monday to Friday 9.00am-1.00pm and 2.00pm-5:00pm
Advice by appointment only. Please call to book